Mobile Storage Container Rental. Serving Puget Sound, Eastern Washington and Northern Idaho.
Locations in Tacoma, Olympia, Spokane and Federal Way
Mobile Storage Containers
Commercial & Residential Portable Storage and Local Moving Containers
855 633 7701
Get a Quick Quote
The Northwest's Fastest Growing Mobile Storage Rental Solution
• Sturdy, all-steel portable storage container rentals 
• Both residential and commercial uses 
• 16 and 20 foot lengths
• Delivered promptly to your home or worksite 
• Level load trailer system 
• Storage or Local Moving Container
• Container placed right where you need it 
Jump Box is a local, family-owned business serving the Northwest. Jump Box Mobile Storage provides sturdy, all-steel portable storage containers for rent for both residential and commercial uses. 
Commercial or Business Storage
Businesses often need temporary or extra storage. Use Jump Box to store excess inventory or during a remodel
Residential On or Off-site Storage
Jump Box is perfect for your at home needs. Store items for a project, remodel or garage cleanout
Local and In-state Moving
Moving in Washington or Northern  Idaho?  Jump Box is a stress free solution! 
Meet Jump Box Mobile Storage.
We started Jump Box to provide a better solution for mobile storage containers.  Our goal was to provide prompt, friendly local service and delivery of clean, well-maintained containers. After over 60 5-star Google reviews, we feel we have succeeded.  Jump Box was started by a family with decades of experience in transportation and storage. We've grown to include locations in Olympia, Tacoma, Federal Way and Spokane.  Find out why we are the fastest growing mobile storage  and local moving solution in the Northwest.
Overall Height 96″
Overall Width 94 "
Interior Height 89″
Interior Width 90.5″
Door  Height 78″ 
Door Width 68″
• Jump Box storage containers come in both 16′ and 20′ lengths. 
• The doors are barn door style creating an opening that allows for maximum access
• The floor is solid wood construction
• There are points throughout the container interior for securing items for transport
Which Jump Box Container is Right for You?
Which Jump Box is Right for You?
The Jump Box 20 foot container holds up to 5-7 rooms of household goods. It is a convenient size for a home renovation project.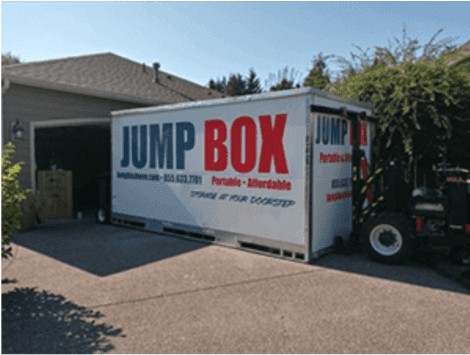 Jump Box also comes in a 16 foot size, perfect for a local apartment move or storing excess garage items. Obviously, the 16 foot container can fit in tighter spots.  They are great for a local move. 
Frequently Asked Questions About Mobile Storage
Portable Storage. Responsive Local Service. Great Rates.
BEST PORTABLE STORAGE RATES IN THE MARKET!
Rates vary by location and distance. Contact Jump Box for your personal quote. 
We're Proud of our Reputation
Over 60 FIVE STAR ratings on Google!
Google Verfied Customer Reviews
Have a question or need help? A Jump Box specialist can help you to determine what size container is right for your project.  Give us a call at (855) 633 7701.
Best Mobile Storage? Common Uses for Jump Box Mobile Storage Containers
On-site Residential Storage
Remodeling Projects
Emergency Remediation- Water, Fire
New Home Move-in 
Decluttering of Garage
Short or Long Term Storage
Moving
Stress Free Local Moving Alternative
Moving with Delayed Delivery
Still unsure of what you need? Visit our FAQ page for further information or call us at 855-633-7701
Meet Billy. He's One of our Jump Box Delivery Drivers
"Billy the delivery driver was very professional and skilled. He was able to place the container exactly where we wanted it! All this for less than what we were paying for a smaller space in a storage facility. Highly recommend this company!"
Serving Washington and Northern Idaho
• We provide prompt service to all of Washington and Northern Idaho from our four service centers. 
• Island service via WS ferry
• Olympic Peninsula
• Short notice service
• Local labor assistance
• Contact us for further information
Jump Box containers are all steel, manufactured with welded joints. The unique locking system on the doors has a secure hasp that allows you to double lock your container for total safety and security.
The Perfect Mobile Storage Solution
At Jump Box, we think we have created the world's most perfect mobile storage solution. Think about it. We drop the container right where you need it. We do the driving. The container isn't an eyesore in your yard. It's clean and new.  It has a secure locking system. You don't have to drive across town to get to your stuff. And when you are done, call us and we'll come pick it up. What's not to love? 
Curious how a Jump Box is delivered? Watch the video! 
Rent your Jump Box in just minutes. Call us at 855.633.7701
Official Mobile Storage Provider for the 2023 Seafair Gold Cup
Jump Box Mobile Storage is proud to be a the official Portable Storaage vendor for the Seafair hydroplane races. Not a suprise. Jump Box provides the best mobile storage containers in the Pacific Northwest.  And we hope to participate even more with the 2023 Gold Cup. 
Learn more about the Gold cup
Enter the "I saw a Jump Box!" contest. Submit your sighting , snap an optional picture (if safe), and you may win a monthly prize!  
Just Some of the Areas Served. Call us!
Seattle, Tacoma, Olympia, Bremerton, Olympic Peninsula, Lewis, Mason and Grays Harbor Counties, Puyallup, Eatonville, Edgewood, Milton, Federal Way, Auburn, Kent, Maple Valley, Burien, Renton, Bellevue, Kirkland, Redmond, Spokane, Coeur d'Alene, Pullman, Post Falls, and everywhere in between!