Seattle Mobile Storage Container Rental
Call 855 633 7701  or
Get a Quote. Fast. Easy
Jump Box Mobile Storage Container Rental for Residential or Business
Introducing Jump Box, the perfect solution for both residential or commercial portable storage needs. If you have a project, Jump Box provides additional storage. Even if you just want to get your garage back, this is perfect. Jump Box comes in 16 and 20 foot lengths and is delivered direct to your doorstep by one of our skilled drivers. Jump Box can fit in hard to access locations thanks to our remote control power unit which can turn on a dime. Jump Box is owned by a Puget Sound local with the desire personalized, prompt service, not like the national brands.
Seattle's Fastest Growing Mobile Storage Unit Solution
Jump Box has become a tremendous success. We've grown to 4 offices serving all of Puget Sound and the inland empire. That's because we have proven great service to Seattle and the eastside, and clean, well-maintained containers. Just look at our reviews. We provide great service and a great product when you need mobile storage near you. 
About Jump Box Mobile Storage
Here is more information about Jump Box.  The Jump Box mobile storage container comes in both 16 and 20 foot lengths. Unsure of what you need? Contact us for information!  The inside of a Jump Box is clean and well-maintained. The interior has D-rings to secure your possessions. this is especially important if you are doing a local move.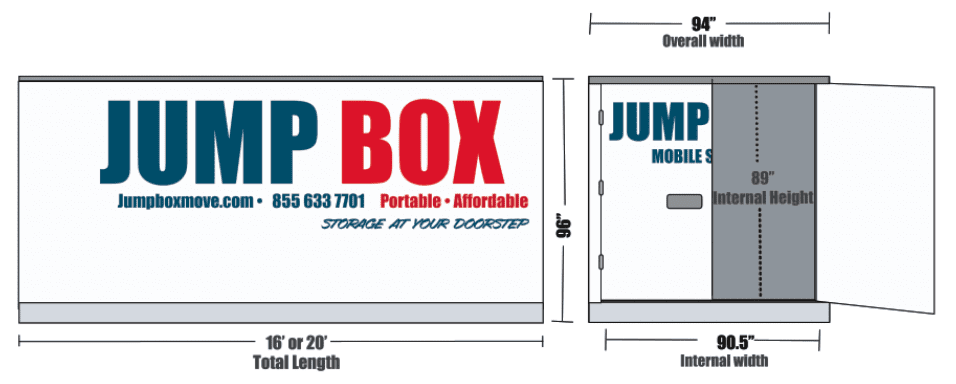 Overall Height 96″
Overall Width 94 "
Interior Height 89″
Interior Width 90.5″
Door  Height 78″ 
Door Width 68″
• Jump Box storage containers come in both 16′ and 20′ lengths. 
• The doors are barn door style creating an opening that allows for maximum access
• The floor is solid wood construction
• There are points throughout the container interior for securing items for transport
We're Proud of Our Service
27 Five Star Google Reviews
We're very proud of our service. Here are just a few of the reviews our customers have shared with us. Pretty impressive, right? 
Questions About Mobile Storage Container Rental
Meet Billy, One of Our Jump Box Drivers
Billy is focused upon providing excellent customer service. We are very. proud of him. He'll spend the time to ensure your container is just where you want it. He will walk you through all the paperwork and explain the process. 
Here is what one of customers had to say about Billy:
Billy the delivery driver was very professional and skilled. He was able to place the container exactly where we wanted it! All this for less than what we were paying for a smaller space in a storage facility. Highly recommend this company!
Contact us for a free, no-obligation quote. We're happy to answer any  questions
Or give us a call  at (855) 633 7701
Watch for Jump Box at this year's Seafair festival! 
Jump Box is a service provider and sponsor of the Seattle Seafair festival. Last year, we placed mobile containers across the event location including under the announcer's tower.  And yes, on the barge next to the bathrooms. We're hoping for better placement this year! 
Why Jump Box Seattle Mobile Storage Rentals Make Sense for You
When it comes to finding the perfect mobile storage container rental, it's essential to carefully weigh your options and consider various factors before making a final decision. Factors that you may wish to consider when looking for mobile storage container rentals include your storage needs, the size and dimensions of the container, the accessibility and security of the storage containers, and any additional features that come with the rental. By taking the time to conduct thorough research and review your options, you can rest assured that you'll find the perfect mobile storage container rental to meet your specific requirements and ensure that your belongings are kept safe and secure. That solution is Jump Box. Whether you're in the process of moving homes, remodeling your space, or simply looking for extra storage space, Jump Box Seattle mobile storage container rental fits the bill.
Jump Box Seattle Mobile Storage in the Community
Jump Box Mobile Storage is proud to provide a wide range of support for community service projects. As a company, we are committed to making a positive impact in the communities that we serve. We understand the importance of giving back to those around us and believe that community service is a vital part of building a better world. That is why we offer mobile storage containers and resources to assist with community service projects of all sizes and types. Our dedicated team of professionals is always on hand to provide guidance and support, and we are proud to partner with a variety of local organizations in Seattle to help bring their service projects to life. So whether you are organizing a community clean-up, supporting a local charity drive, or assisting with disaster relief efforts, Jump Box Mobile Storage is here to help. Contact us to discuss your needs.  Together, we can make a difference!